Vietnam edition features latest insights from one of Asia's hottest markets plus Perfection Fresh CEO Michael Simonetta shares the company's growth strategy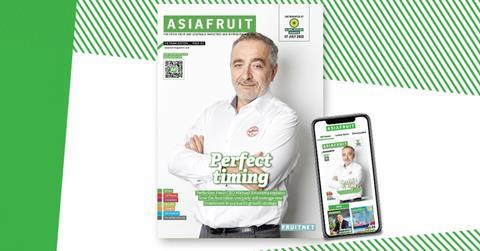 The June 2022 edition of Asiafruit Magazine is now available on the Asiafruit app – on Apple and Android – bringing you the latest news and views from across Asia's fast-moving fresh produce markets.
The Vietnam edition includes an in-depth report on one of Asia's most exciting growth markets for premium imported fruits.
Covid restrictions have eased in Vietnam, providing renewed impetus to fresh fruit sales and enabling retail activations to return. Global suppliers are seizing the opportunity with new promotions, and a number of exporters have put teams on the ground to capitalise on the growth potential.
In the keynote interview, Michael Simonetta, CEO of leading Australian fresh produce company Perfection Fresh, explains how the group plans to leverage new investment to pursue growth in Asia.

Cherries, grapes and citrus are among the categories in the spotlight in this edition. Track the progress of the Northwest cherry campaign and get the latest news from China and Turkey.
As the Northern Hemisphere grape and Southern Hemisphere citrus seasons ramp up, there also updates on both campaigns.