Apple and pear edition examines the new varieties changing the face of the industry and spotlights the Philippines market
The November 2022 edition of Asiafruit Magazine is now available on the Asiafruit app – Apple and Android – bringing you the latest news and views from across Asia's fast-moving fresh produce markets.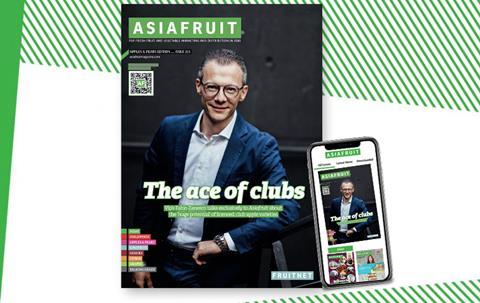 The apples and pears edition takes a look at the growing influence of club varieties on the category through an Italian lens.
In a keynote interview, Fabio Zanesco of Vip Val Venosta talks about the complexity of managing multiple licensed variety programmes and explains how they are now ramping up to form a significant part of its business.
We also talk to another Italian apple specialist, Rivoira Group, about the prospects for its new Sambóa brand, which the company says is set to carve out a new super sweet segment in the apple category.
This edition also features a market spotlight on the Philippines, which details the country's path out of the heights of the pandemic and highlights the opportunities for imported fruit in a rapidly evolving and expanding retail sector.
Elsewhere in the edition, we report on the prospects for the Northern Hemisphere kiwifruit season and the early outlook for the South American table grape campaign. Plus, we explore some of the latest developments in the fast-growing berry category.