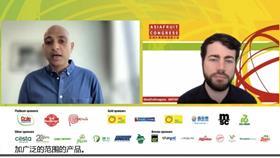 The Covid-19 pandemic upended long standing consumer habits in China, according to Winstone Chee, manager at Altitude Fresh.
Addressing the audience during day two of Asiafruit Congress, Chee said the health crisis had placed "extra pressure on traditional wet markets in China."
As a result, consumers right across Asia switched to shopping online for their produce and other FMCG. With the focus shifting to health and cooking at home, many consumers have re-evaluated the choices they make when it comes to what they consume.
But despite this, Chee said one long-standing trend remained in-tact. "Impulse buying and seasonality rarely diminished during the pandemic," he noted.
Enticing consumers back
At some point in the not-too-distant future, in-store retail will resume. As will wet markets. But convincing consumers, who by all accounts have welcomed the convenience of online shopping and delivery, back into bricks and mortar stores will be a challenge.
"It's not a one shoe fits all scenario," Chee said, when addressing how retailers would engage customers post-pandemic. "For the bricks and mortar retailer, the average basket size is very important to them. Enticing people back into stores can be done through online promotions, such as electronic coupons, and in store activations.
"The position of product and product category is important to the retailer. Once the customer is through the door, the retailer can really wow them," Chee highlighted.
"Having said that, online remains a very important aspect of overall growth. The ongoing trend of consumers shifting to online channels has accelerated and usage of digital apps has risen since the crisis.
"What once were trends are now part of everyday life, and suppliers need to do the work up front to really understand the various e-commerce channels."
Chee believes freshness will continue to outrank convenience for many shoppers in China, as will the customer experience.
Farm to market model considered
Saad Ahmed, managing director, regional head of commercial at Grab, outlined the company's plans in South-East Asia, which centre on sourcing high quality produce that's hard to get, and supplying it direct to market. Effectively ruling out a middleman.
"We are exploring a farm to market model… based on what we see as a rising middle class and more urbanisation across key markets in South-East Asia," said Ahmed. "We see more preference for convenience, there's huge room for growth in the region."
This growth, Ahmed believes, will boom once there is greater adoption of technology industry wide. "For a long time, many retailers never considered online ordering and delivery. So that digitisation journey for many merchants is new, and we think it will continue," Ahmed told Asiafruit Congress attendees.
"When it comes to online delivery, [the pandemic resulted in] an explosion in the number of categories going online, and people are now optimised for convenience and fast delivery."
For all the potential, Ahmed concedes that South-East Asia remains well behind China or the US when it comes to technological advancements.
"There certainly is challenges to developing this for fresh produce," Ahmed said. "South-East Asia is unique, there are huge differences in terms of infrastructure and logistics.
"At Grab, we think we are building the necessary infrastructure. Hyperlocal maps, down to the last detail, delivery partners that can navigate alleyways to deliver produce to consumers.
"It's a key element to developing the ecosystem. We have over 5m delivery partners across South-East Asia, and we try to bring forth the ability to switch between jobs, where demand lies.
"That could mean delivery drivers might switch between driving people to work in the morning, to delivering groceries in the afternoon, and then ready to eat food at night. We want to see that context switch made easier for our partners," he added.