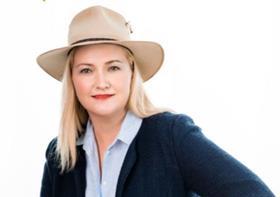 Australia's peak body for agritech, the Australian Agritech Association (AusAgritech), has appointed Tracey Martin as its new chief executive.
Martin will bring over twenty years of experience in strategic policy development and execution and stakeholder engagement in various industries to the role.
She has chaired international forums on financial policy in Europe, worked for APRA and the Bank of England/PRA and has a master's from the London School of Economics in Diplomacy and International Strategy.
A Nuffield Scholar from 2020 and a member of the Cattle Council of Australia (CCA) Policy Council, Martin has also been a (CCA) representative to the National Farmers Federation Sustainable Development & Climate Change Committee.
Andrew Coppin, chairman of AusAgritech, said the appointment was a giant leap forward as the association embarks on its next growth phase.
"The appointment of our full-time chief executive will turbocharge the association's mission to build a worldclass agritech sector that supports the achievement of the A$100bn national target for agriculture and the development of a A$20bn a year industry of technology exports and opportunities.
"Tracey's rich Australian and international experience in stakeholder engagement, strategic policy direction and advocacy in the financial services sector complements her current position on the land in Queensland making her the perfect appointment to take the Australian agritech sector forward," he said.
Martin said the agritech industry is in an exciting position as the world looks to technology to solve its greatest challenges.
"Whether it be supporting Australian agriculture's vision to become a A$100bn industry by 2030, or as a critical component in the Australian Government's long term emissions reduction plan, it's obvious that technology will be the great enabler.
"Agritech is a national necessity, without it we won't meet our national ambitions,' she added.
The association's immediate priority will be to further engage and develop the agritech community to ensure the untapped potential of the industry can be realised.
Martin said her initial focus will be to creating a community that adds value for members. "My first focus as CEO will be in delivering a member offering for the association that empowers our members to build their own knowledge and business, cultivate fruitful relationships and have a seat at the table when it comes to critical policy discussions," she said.
AusAgritech is set to release its strategic plan for 2022 in the coming month, which will focus on the building of key partnerships, global collaboration, identification of industry growth opportunities, attracting talent and investment, and increasing adoption and advocacy.
Martin confirmed her commitment to ensuring future strategic plans are collaborative and industry-led.
"The direction of this association and the industry should be shaped by its participants," she said. "We will be proactively engaging with farmers, innovators, investors, government and researchers as we advocate for our members and work to foster a world-class AgriTech industry and ecosystem in Australia."