Workshop highlights capabilities and challenges for phytosanitary treatment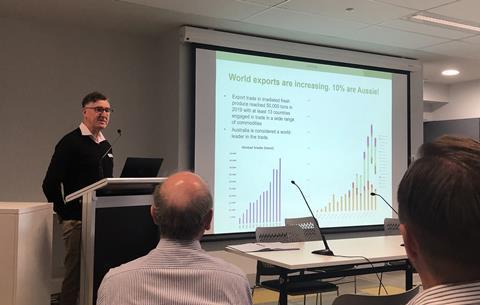 Success stories, challenges and the potential of phytosanitary irradiation were discussed at a workshop in Melbourne today (15 September).
Hosted at Agriculture Victoria's Atwood facility, the event's half day conference programme attracted a wide spread of industry members, retailers, transport and logistics companies, and representatives from state and federal governments. More than 80 registered guests attended in person and online via a live stream.
The event emphasised Australia's position as a world leader in the use of irradiation as a phytosanitary treatment, for both domestic and export trade.
With the trio of constructed treatment facilities, established food standards and export protocols accepting irradiation, Ben Reilly of Steritech said Australia was well placed to capitalise on growing awareness and acceptance of the treatment.
Reilly said the growing volume of fruit passing through Steritech's irradiation treatment facilities in Melbourne and Brisbane validated this point.
"Sales growth is the translation of consumer acceptance and more importantly consumer demand," he explained.
In delivering a presentation on the regulatory and technical barriers to the acceptance of phytosanitary irradiation, Lloyd Kingham of the New South Wales Department of Primary Industries said over 1,200 pallets of irradiated fresh produce had been shipped across the Australian domestic market in 2021/22.
Kingham encouraged industry and the federal government to promote the progress being made in the domestic market, in the hope it will prompt more countries to accept irradiation for Australian exports.
It was a point echoed by Mirianne Jovanoski of the Australian Department of Agriculture, Forestry and Fisheries.
"Don't underestimate the power of providing our trading partners with domestic examples of the growing acceptance of irradiation treatment," Jovanoski said.
Jeff Scott, chief executive of the Australian Table Grape Association (ATGA), outlined the benefits irradiation has delivered to his industry.
Scott highlighted a growth in sales volumes to Indonesia and Vietnam since both countries accepted irradiation as a phytosanitary treatment for Australian grapes.
The key benefit, according to Scott, is that irradiation provides a quick, reliable alternative to cold sterilisation, thereby opening up airfreight as an export option.
Scott says the ability to have fruit picked, packed, treated, shipped and landed within a 72 hour window is a key advantage when supplying Asian markets, where competition from fellow Southern Hemisphere suppliers intensifies each season.
"We need to have a point of difference and that point of difference is our quality," he explained. "Airfreight, and by extension irradiation, provides us with this."
The conference programme was followed by a tour of Steritech's Melbourne irradiation facility.
Read more about key insights presented at the workshop in the upcoming October edition of Asiafruit and the Summer edition of Produce Plus.