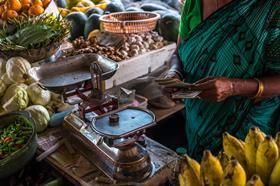 Hort Innovation will lead a tour of India as it looks to boost the Australian horticulture sector's economic partnership with India across research, marketing and trade.
The Australian grower-owned industry body's tour begins on 13 November and major agribusiness companies, retail food chains and horticulture importers are featured among the stops.
Neil Burgess, investment manager of Hort Innovation, and tour participant, said India is the third-largest major economy in the world and the growth opportunities for business between India and Australia are significant.
"Over the past several years India's agriculture research, agribusiness and commercial retail sales activities have reached an awe-inspiring level of enterprise and sophistication," Burgess said.
"Through this tour, myself and trade and research and development technology representatives from Hort Innovation, plan to strengthen existing ties with Indian research agencies, companies and government contacts, and develop new, productive relationships for the benefit of Australian growers."
The week-long tour will include meetings with the Indian Council of Agricultural Research (ICAR), Dharampal Satyapal Group, a rapidly growing conglomerate with a presence in agribusiness, ITC Agribusiness, one of India's largest integrated agribusiness enterprises and Cravo, specialists in production systems.
Also participating in the visit are online retailer Big Basket, horticulture supply-chain specialist Agrifluence and Adani Agrifresh, which imports fruits and has one of the largest integrated apple supply chain initiatives with ultra-modern storage infrastructure in India.
Last financial year, Australia exported almost A$135m (US$92.5m) in produce to India, which included almonds, oranges, grapes, walnuts, cherries, pears and apples.
This is a large increase from A$63m (US$43m) exported in 2013, highlighting the potential for growth in Australian exports to India.