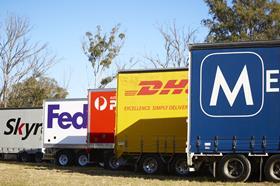 Western Sydney Airport, which is set to open in 2026, has entered into memoranda of understanding (MOU)with Australia's major airlines and freight companies.
These MOUs will see the airport involve the companies in the design process and begin discussions about future operations.
MOUs were signed Qantas Group and Virgin Australia Group, while the freight companies signing up to work with Western Sydney Airport includeAustralia Post (including StarTrack), DB Schenker, DHL Express, DSV Air and Sea, FedEx, Menzies Aviation, Swissport, Qantas Freight,SkyroadLogistics andWymap.
Graham Millett, chief executive of Western Sydney Airport, said the MOUs were a tremendous vote of confidence and the Western Sydney International (Nancy-Bird Walton) Airporthas the potential to become Sydney's most important freight hub.
"The Airport's unrestricted 24/7 operations will be the key to unlocking new export opportunities for businesses and producers across Western Sydney and New South Wales," he said.
"Goods produced in NSW will no longer have to be trucked to Brisbane or Melbourne in order to reach lucrative Asian markets overnight."
Millett said insights from these international freight leaders would help Western Sydney Airport optimise the design and functionality for its customers.
"The ongoing growth of online shopping as well as demand from Asia for Australian fresh produce, has had an enormous influence on the international freight market," he said.
"Growing demand for pharmaceuticals, temperature-sensitive and perishable products will also play a key role in the future of airfreight."
Australian airports currently transport more than 1m tonnes of airfreight annually and this is forecast to grow considerably over the next decade.
The first stage of the airport has the potential to process around 220,000 tonnes of airfreight each year through its proposedon-airportfreight facility, withmultiple dedicated freighteraircraft stands.
This is set to scale up with demand,potentially handling1.8m tonnes of airfreight each yearin the future.
While the freight MOUs focus on the airfreight industry, Western Sydney International will also provide significant opportunities for Australian exporters, including the agribusiness precinct located adjacent to the airport.