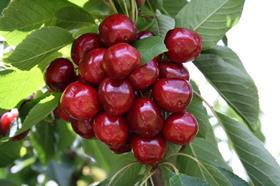 With the 2019-20 Australian cherry season now finished, new figures show that despite a lower volume, A$82m (US$52.9m) worth of cherries were exported, a 2.9 per cent increase on last season.
According to the Australian Cherry Growers' 2019-20 export report, driving the increased value was an average Australian export price of A$18.24 (US$11.77) per kg compared to A$15.78 (US$10.18) per kg in the previous season.
The report said with a high brix, the season's cherries were well received, and demand was high.
A total of 4,644 tonnes were exported to 37 countries, this represented to a 7 per cent decrease in volume from 2018-19, which was attributed to lower yields.
China was the largest export market for Australian cherries in the 2019-20 season, importing 1,539 tonnes or 33 per cent of total exports.
Following China was Hong Kong as Australia's second-largest market. It's 660 tonnes accounted for 13 per cent of total imports. Combined, China and Hong Kong's percentage of total exports dropped from 50 per cent last season, to 46 per cent in 2019-20.
Other notable importers of Australian cherries included Vietnam with 584 tonnes and Singapore with 584 tonnes.