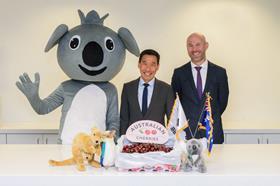 The first ever cherries from mainland Australia were exported to Korea in November, paving the way for more shipments over the next three months.
Until this year, only small volumes cherries from the state of Tasmania - the only growing region with had access - were sent to Korea. Now over 500 tonnes of fresh cherries will be exported from mid-November 2020 to late February 2021 according to Hort Innovation Australia's Taste Australia brand.
The first cherries, just like those that will follow, were airfreighted from Australian farms within 36 hours to ensure freshness.
James Choi, Australian ambassador to Korea, hoped Korean consumers would welcome the new fruit.
"I am very delighted that we could introduce the best quality of Australian mainland cherries to Korean market and customers for the first time ever," Choi said.
"I hope that this new start would lead to more trades between Australia and Korea, and Korean customers would enjoy the taste of Australia by these cherries."
Australian mainland cherries will be sold in-store and online via Coupang, Homeplus, Lotte Mart and Emart with Tasmanian cherries to join them from January.
To celebrate the first arrival of Australian mainland cherries to Korean market, Taste Australia organised a number of diverse events to introduce Koreans to the product.