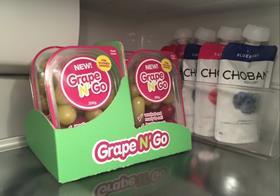 Fruitmaster Australia is leading the next trend in healthy snacking through the launch of the ready-to-eat Grape N' Go pre-packs.
The Grape N' Go product offers a single serve punnet of destemmed green, red or bicoloured grapes.
A specifically designed Grape N' Go production line has been installed in Robinvale, Victoria, following two years of development.
"We sourced machines from six different companies and six countries from around the world," said Joe Lanteri, CEO of Fruitmaster. "That approach of getting the best from every company and integrating it into our packing line enables us to deliver a world first, world class grape destemming operation."
Fruitmaster has engaged Gilad Sadan from Navi Co Global to help launch this new innovation. Sadan described Lanteri as an "industry visionary" that has foreseen the next innovation in table grapes and backed it all the way.
"Joe's pursuit of quality and results is inspirational and it shows in the machinery he purchased for the grape destemming operation," Sadan told Fruitnet. "I can assure you no rock has been left unturned and no cost spared in creating this new packing line and I look forward to seeing it launched in the next couple of months in supermarkets in Australia and across Asia."
To help handle the ready-toeat product, Fruitmaster has invested in a state-of-the-art packing room. Once the grapes are fed into the automated packing line the product isn't touched again until it is contained in a sealed punnet and ready to go into a box for distribution.
The destemming process has been designed to be a gentle operation to keep grapes intact and undamaged. The grapes then go through a rigorous quality inspection.
"This is important to us as we see this as a premium product that will increase grape consumption across our grape category," Lanteri explained.
The packaging has been designed with a school lunchbox size in mind and fitted with a re-sealable film for consumers who don't wish to devour all the grapes in one go.
The Grape N' Go punnets are packed into shelf-ready boxes, creating ease when it comes to store merchandising and providing an opportunity for the product to be stocked at 'lunch to-go' sections of retailers.
"We have created the Grape N' Go brand as a play on 'grab and go' and trademarked it as well," Sadan said. "The product name is in line with how we intend this product to be merchandised and purchased – as a healthy snack and as an addition to a meal deal.
A full version of this article appears in Produce Plus Summer 2016.