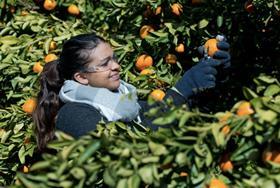 A reduction in the number of farm workers across Australia hasn't diminished the output of the country's horticulture sector, according to a research report.
The Australian Bureau of Agricultural and Resource Economics and Sciences' (ABARES) Labour use in Australian agriculture: Analysis of survey results report concluded that improved growing conditions and farm-level adaptations have countered the reduced availability of overseas labour during the Covid-19 pandemic.
"The number of workers used by horticultural farms declined by 11,100 from 2019/20 [12 months to 30 June 2020] to 2020/21, mainly due to fewer seasonal working holiday makers," said ABARES executive director Jared Greenville.
"Despite this, overall horticulture output levels are estimated to have remained relatively steady, partly due to an improvement in seasonal conditions.
"Output has also been maintained through a range of adaptations that many horticulture producers made in response to the reduced availability of overseas labour.
"These included increasing the hours worked by the existing workforce, altering production systems and by employing more Australians and overseas residents already in Australia– incentivised by government labour market initiatives."
ABARES' September quarter horticulture market analysis found retail prices for fruit and vegetables increased beyond the levels historically seen at that time of year, indicating supply may be lower than usual or increased costs of labour are being passed through to consumers.
"Horticulture farms used around 135,100 workers on average over the course of 2020/21, including family, permanent and contract employees," said Greenville.
"Total farm labour use varied from a low of around 126,000 workers in winter and early spring to a peak of 146,300 workers in summer and early autumn."
The report was compiled using data from a recent labour survey conducted by ABARES. The survey results were based on a weighted sample of 3,429 horticulture farms across Australia, stratified at the region and industry level to be representative of the total population of 10,403 farms.