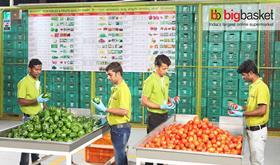 Catering to the local market in Kerala, Indian Alibaba-backed retailer, BigBasket, has set up collection centres in Kochi for fresh produce.
Customers in the state can now shop online through the BigBasket app, Times of India reported, with the choice of 22,000 products including fresh produce, grocery and cosmetics.
Following a recent funding round the retailer has earned what is anecdotally known as "unicorn" status, which is when a privately held start-up company earns valuation of US$1bn or more.
The retailer is not slowing soon, however, and has plans to double its revenue by the 2020 financial year. Forty per cent of the projected revenue for the retailer to meet this goal is expected to come from private label sales, which currently make up 34 per cent.
Hari Menon, co-founder and CEO told Times of India that Kochi is a high-growth market for BigBasket and the company is excited to launch services in the coastal city.