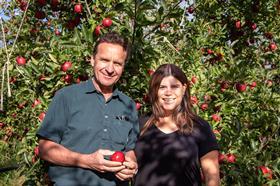 Bostock New Zealand has expanded its reach into Asia, announcing it has opened a new office in Ho Chi Minh City, Vietnam.
Vietnam is the third offshore office New Zealand's leading organic apple producer has opened in the last three years, having previously expanded into Far East Russia and North America.
Bostock New Zealand international market manager, Jane Maclean, said the benefits of in-market local representation made Vietnam "a natural progression" for the company's next office.
Vietnam is a key destination for all global produce suppliers, with the economy's growth rate in recent years amongst the world's highest.
In the past five years, Bostock New Zealand has reported a 2,000 per cent increase in its Vietnam apple volumes.
"Having staff on the ground here means we can quickly understand and respond when markets inevitably change - from evolving sales channels, to consumer trends, to simple supply and demand. Allowing us to truly capitalise on opportunities," said Maclean.
The office will also help Bostock New Zealand develop stronger customer relationships, which Maclean said was an added benefit.
"While our Bostock New Zealand based traders usually travel at least four times a year, when borders are open, it is clear to us that having someone local in the market provides a stronger, layered level of service and support to our customers - especially as our business grows."
Maclean noted the Vietnam import apple market has changed from selling primarily into wholesale and wet markets to the rapid development of the modern retail sector.
"Our conventional apple business, all supplied by our long-time family growers, remains strong here. Vietnam retailers are taking a larger volume of our shipments directly every season.
"About 40 per cent of our conventional apples now go direct to retail with the booming new middle-class population all looking for quality imported fruit," she said.
"However, it has been really exciting to see the demand grow for our organic apples in the last two years. Vietnamese people are placing a stronger focus and priority on their personal health and food safety and higher disposable incomes means they can now purchase organic products."
This 2021 season Bostock New Zealand expects to see organic sales increase 300 per cent from last season.
Bostock New Zealand's in-market representative, Huong Nguyen, will be the everyday interface with customers and will look for new opportunities and report on market activity.
"When we opened the Vietnam office, we knew that finding the right local person, would be crucial to our success," Maclean explained.
"Huong has seven years of working in the produce sector – including for other foreign owned entities. Huong also has a special understanding of produce because as a young child, her family used to farm Pomelo and a range of vegetables, in her hometown in the Mekong Delta.
"With the sales of organic apples increasing and the development of our premium IP apple varieties, we now need strong marketing and promotional campaigns to better target the end consumer. Having a Vietnam office means we can better support our retail partners with marketing," she added.
Bostock New Zealand's import partners will continue to be the integral and primary part of its market distribution, said Maclean.
"There are several small organic and natural focused distributors and retailers – either single store or with a handful of stores only – who would love to buy direct off the farmer but aren't handling enough volume to do. We can also see potential opportunities for our onions and squash, products which we don't currently ship to Vietnam as the market is still limited"
New Zealand's first shipments of new season Organic apples are arriving in Vietnam in April – including Dazzle apples, which Maclean said has now become the most sought-after New Zealand apple in the market, after a very successful 2020 season.
"The Hawkes Bay growing season has been good, and the weather has provided the perfect growing and harvesting conditions. There have been lots of sunny days and cooler nights which means our Bostock fruit has coloured well and is looking beautiful. We are very happy with the quality this season," concluded Maclean.
Read more on New Zealand in the March edition of Asiafruit, out soon.