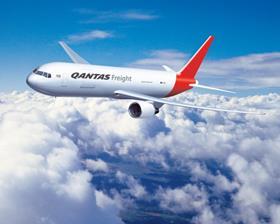 With Cathay Pacific cancelling its 25-year-old Cairns to Hong Kong route at the end of October, Qantas Freight has begun its trial replacement service.
The first flight left Cairns Airport on 9 November and subsequent flights are expected to run on most Sundays throughout the six-month trial.
Qantas has adjusted its existing Sydney-Hong Kong service to stop via Cairns to give Far North Queensland exporters a direct, same day delivery to Hong Kong.
Nick McGlynn, freight chief customer officer of Qantas, said the airline was proud to be backing Far North Queensland by maintaining this connection and taking Australian goods into Asia.
"We've responded to the call from Queensland producers to provide a direct international freighter service from Cairns," McGlynn said.
"The new flight provides over 25 tonnes of freight space and will offer Cairns a direct, nonstop service to Hong Kong with connectivity across north Asia."
McGlynn said if Qantas received strong support for this route it would look at adding it permanently.
"We encourage Cairns and Far North Queensland exporters to get behind this freight link so that we can continue it into the future," McGlynn said.