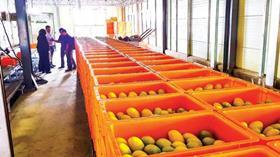 Cambodia has reached an official agreement with China regarding the export of fresh mangoes. Under the agreement, Cambodia will be able to export 500,000 tonnes of fresh mangoes per year to China.
According to a report in the Phnom Penh Post, China's Ministry of Agriculture, Forestry and Fisheries, put consumption of mangoes in the country at an average of 8m tonnes every year.
The phytosanitary requirements for the export of fresh mangoes from Cambodia to China was signed by Minister Veng Sakhon and Chinese Ambassador to Cambodia Wang Wentian on Tuesday 9 June.
Sakhon said the agreement will provide Cambodia's agricultural producers with a good opportunity to capitalise on a new market.
Fresh mangoes are the second fruit to be officially permitted for export to China after yellow bananas were approved last year, he added.
"This is a very useful achievement for Cambodia and it is in line with the government's policy for the development of Cambodian industry from 2015-2025.
"One of the main goals of the policy is to boost the export of agricultural processed goods by 12 per cent of total export volume by 2025," noted Sakhon.
Wang said China is aware of Cambodia as a high-potential provider of agricultural products.
The two countries' strong cooperative efforts have led to more Cambodian agricultural products to be considered for export to Chinese market, according to Wang.
"I expect that in the near future more Cambodian products will be officially exported to China … I hope that as relations improve, the export of Cambodian products to China will further increase after Covid-19 tapers off," he noted.
Ngin Chhay, director-general of China's General Department of Agriculture expects consistency in trade to take time to develop, adding only good-quality properly-packaged fresh mangoes which adhere to China's standards would be accepted for export.
The report byPhnom Penh Postindicates20 companies and plantation owners have submitted applications for mango orchards and packaging locations to participate in the new wave of fresh mango exports to China. The total land area listed in the applications covers 21,286ha.
Cambodia exported 44,099 tonnes of fresh mangoes during the first five months of this year, an increase of around 14,885 tonnes or 50.96 per cent compared to the same period last year, according to Ministry data.
In 2019, Cambodia exported a total 58,162 tonnes of fresh mangoes to six markets – Thailand, Vietnam, Singapore, France, Russia and Hong Kong.