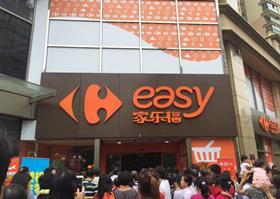 Digital integration has helped improve the profitability of Carrefour China after it was recently acquired by Chinese e-commerce retailer Suning.com.
According to a report from Xinhua, the supermarket chain increased its operating efficiency since it was acquired by Suning.com in September 2019.
Tian Rui, chief executive of Carrefour China, said in Q4 2019 the company had earned its first quarterly profit in the last seven years as a result of the changes.
'In terms of digitalisation, our existing 209 stores nationwide have completed a smart retail transformation to meet the one-hour delivery service within 3km of the surrounding area and the half-day service within 10km of the same city,' Tian told Xinhua.
The implementation of some of these changes has come at the perfect time with the onset of the coronavirus (Covid-19). Carrefour China has launched flash delivery services that have been combined with Suning's convenience stores to meet consumer demand.
The the average daily order has increased by 202 percent month-on-month, according to the company.
'In 2020, we will accelerate store upgrades, supply chain construction, and other ecological integration with Suning to recreate the glory of Carrefour in China,' Tian said.