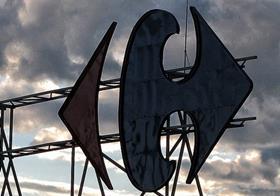 Carrefour, Europe's largest retailer and a major player in several overseas markets around the world, has said it plans to spend around €1.5bn on "reinventing the hypermarket" as it bids to halt a recent decline in sales at its European stores.
While the company has enjoyed good growth in other parts of the world – notably Latin America and Asia – during the past few years, its operations in western Europe in particular have suffered as shoppers have fallen out of love with the hypermarket format, which currently accounts for over 60 per cent of group sales and over half of domestic sales.
According to Reuters, Carrefour is looking to revamp its outlets and convert 245 of its 500 hypermarkets in France, Spain, Belgium, Italy and Greece between the second quarter of 2011 and the end of 2012 at an average cost of €4.2m.
The remaining 255 hypermarkets will also be upgraded but not to the same level, costing about €2m per store, chief executive Lars Olofsson revealed.
To that end, the group has already opened five pilot Carrefour Planet hypermarkets in France, Spain and Belgium in a bid to revive the format.
According to Reuters, the group is "abandoning the hypermarket's original goal of selling 'everything under one roof' for a more focused non-food offering and lower prices in groceries."
The pilot stores will apparently offer specialist sections selling categories like clothing, beauty, media and organic foods, and in-store theatre from cooking lessons to massage sofas.
"We want to create a store where you go there because you want to go there, not because you have to go there," Mr Olofsson told reporters, adding there had been a double-digit percentage increase in visitors to test stores which opened 2-3 months ago in Belgium and Spain.
The initiative is seen as a major part of a three-year recovery plan launched last year and which has targeted estimated savings of around €4.5bn euros, most of them in Europe.