Extra capacity and improved coordination of air shipments will ensure smoother dispatch of airfreighted cherries this season, says terminal operators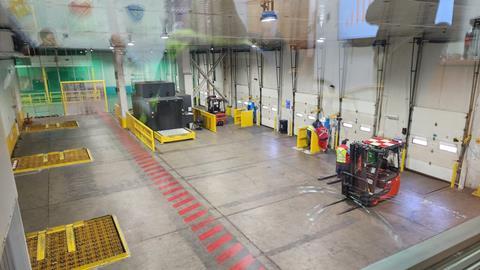 Chilean fruit producer federation Fedefruta visited the Aerosan and Teisa air cargo terminals at Santiago's Arturo Merino Benítez Airport to see the first dispatches of new season cherries and blueberries.
Amid ongoing disruption at Chilean ports, significant investment has been made to expand airfreight capacity and improve the coordination of fruit arrivals at the terminals to ensure a more streamlined service for exporters.
During the visit, Fedefruta's president, Jorge Valenzuela, commented: "Thanks to favourable weather conditions, this year we see more fruit in the field, there is a big increase in volume, and it could be a very good season for everyone".
Air shipments of cherries got underway in November and will reach their peak in December.
The visit, coordinated by I Check Cargo Logistics, also included the Agricultural and Livestock Service (SAG) and Asoex, who were there to see preparations to receive the trucks with fruit and take care of the cargo transit at the airport.
Aerosan and Teisa have made significant investments in infrastructure to expand capacity at the terminals by 30 per cent and ensure that fruit consignments are processed more rapidly. They have also extended their operating hours.
During the high season the airport can load around 600 tonnes of perishable products per day. Around 70 per cent of the fruit is transported via commercial flights and the rest through cargo flights, which can carry four of five times more tonnage than passenger flights.
Fedefruta said the main challenge facing terminal operators is to how to synchronise the arrival of fruit from different exporters.
They pointed out that all the actors in the business, from producers and exporters to transportation, cargo agents and Customs, SAG and airport warehouses, had a duty to coordinate with each other to avoid bottlenecks at certain times of the day.
"We had a very good visit," said Valenzuela. "We are learning about the reality of air freight for fruit, and we can be optimistic about this type of shipment because this season the logistical conditions have improved a lot after the pandemic, and the coordination between terminals, operators and SAG are all critical in the operation. We hope that this will help to have a good early cherry season."