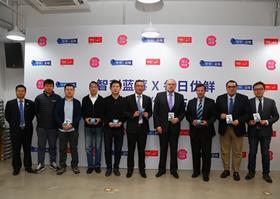 Beijing-based fresh produce e-tailerMissFreshhas entered a strategic partnership with the Chilean Blueberry Committee.
At a press conference on 15 January, the two parties announced that the partnership would see more collaboration between the two, and that Chilean blueberries would now be a featured product for Bianligou, MissFresh's unmanned retail project.
Launched in mid 2017, Bianligou operates unmanned convenience shelves that offer fruits and other food items. According to MissFresh, there are now nearly 20,000 Bianligou shelves across ten Chinese cities, strategically located to service white-collar office workers. The company plans to roll out the project to 60 cities in 2018, with a total of 300,000 shelves.
MissFresh and the Chilean Blueberry Committee first established cooperation at Asia Fruit Logistica last September, where they signed an exclusive online partnership deal. But according to MissFresh co-founder Zeng Bin, Chilean blueberries have been a best-selling item since they launched on the platform in 2016. Zeng believes young officer workers, who are the target group of Bianligou, will love the new addition to the product range.
Gustavo Gonzalez, Chilean deputy ambassador in China, said he looked forward to seeing the results the partnership would bring. He said unmanned shelves have good potential in China and would like to see more Chilean products joining blueberries on the shelves.