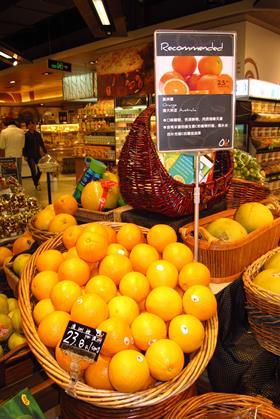 China's citrus import market is recovering after suffering a major downturn following the country's Covid-19 lockdown earlier this year.

When the Covid-19 outbreak hit China at the beginning of this year, many people in the trade expected to see a surge in demand for citrus. The product's high Vitamin C content made it the perfect choice for consumers seeking to boost their immunity. Some of their predictions were based on experience with the Sars outbreak back in 2003, when citrus prices skyrocketed in Hong Kong and China as shoppers sought immunity-boosting products.

The anticipated Covid-19-fuelled surge in demand failed to eventuate. Instead large inventories of Egyptian oranges built up on the market, causing prices to slump and leading to substantial losses.

Key market sources cite a number of reasons behind the slump between March and May.

The high Vitamin C content of citrus was not a big driver of consumer demand in China as it has been in other markets, they noted. "Chinese people believe in many other things to boost their immunity – Vitamin C is only one option. We believe in Chinese medicine and proteins to boost immune response," said Kurt Huang of Shanghai Oheng Import & Export Co.

China's food service channels, a key sales outlet for imported oranges, were also heavily impacted by the lockdown. "Citrus, especially Valencia oranges, are mostly used by hotels and restaurants for juicing, but during the pandemic these businesses were closed, which put a lot of pressure on wholesale markets," said Huang. "The collapse in the Valencia price also affected the price of navel oranges."

In addition, imported citrus has been facing increased competition between February and April from domestically-grown mandarins, Huang pointed out. Production of Wogan mandarins, a low-seeded, high-flavour variety, has surged in Guangxi province, and the fruit is proving to be a hit with consumers.

China's lockdown measures also caused significant disruption, both to distribution of domestic citrus and to the economy and consumer demand in general. "Hubei province was completely closed off, and this region has massive orange production that all became available when they opened the province again," said Pieter de Waart of Shanghai-based Origin Direct Asia. "This further hurt the Egyptian trade."

Rui Zhang of importer IPM Co said the closure of China's cities "removed labour" and dealt a blow to the real economy and consumer confidence. "Not only did total consumption power decline but consumers reduced their number of outings. So the sales volume of imported oranges on both the wholesale and retail markets dropped significantly, which made supply exceed demand."

Reduced supplies lift prices

Market prices have begun to pick up in recent weeks, however, with importers describing the market situation as "pretty good" during July. But they hasten to add that the improvement is due to a sharp downturn in shipments from key Southern Hemisphere origins South Africa and Australia, which has led to some supply shortages.

Arrivals of Australian citrus were down by almost 50 per cent year-on-year between mid-May and the end of June (Week 21 to Week 27), according to Zhang.

Delays to shipping schedules were one of the key constraints on Australian volumes, he noted. "Fruit was slow to colour, so the shipping schedule was delayed by almost a month compared with previous years, resulting in a one-month gap in the market and allowing market demand to gradually accumulate."

Escalating political tensions between Australia and China have further impacted shipments, Zhang noted, with China recently imposing an 80 per cent duty on Australian barley and ramping up inspections of incoming containers of imported fruit from Australia for Covid-19. "The tensions in bilateral relations have made fruit growers and exporters reluctant to ship to the Chinese market, which has contributed to the shortage," he said.

Arrivals of South African citrus to China between Week 4 and Week 28 (early July) were down almost 55 per cent year-on-year, according to IPM. Indeed, South African citrus shippers have been enjoying very strong demand from their traditional market in Europe. Data from the Citrus Growers Association of Southern Africa (CGA) through week 27 showed orange shipments to Europe had more than doubled year-on-year to almost 6.7m cartons.

"Most Western markets have seen of lot of pull for fruit which we attribute to healthier eating patterns as a result of Covid," said de Waart. "Unfortunately, East Asia has not shown the same trend. The Middle East, India and Bangladesh have also been exceptionally strong on oranges and often offer a higher return, which has also seen smaller volumes being loaded for the Far East."

Xudong He, marketing director of Guangzhou-based Berda Fruit, agrees that strong demand and high selling prices in Europe have impacted the volumes of South African citrus sent to China. "Chinese importers have to be cautious, considering the serious losses in the recent Egyptian citrus campaign we suffered just now, and the fact South African growers and exporters are more willing to ship fruit to other markets like Europe which are not as strict on quality specifications and don't require cold sterilisation," he said.

Cautious outlook

Typically, large volumes of South African citrus arrive in China during August and September, but Zhang said it's hard to predict what kind of volume will be shipped this year.

While South Africa's Valencia crop estimate was reduced by 1m cartons in mid-July, de Waart said the forecast packout is still above 2019 levels and navel volumes are also up on last year.

Berda's Xudong is concerned the improvement in the China market situation during July will lead some Chinese importers to become aggressive in procuring from South Africa, putting the market under renewed pressure.

"I can see some importers trying to ship more volume and not keeping the quality under control," he warned. "So I believe from the start of August, the traditional wholesale market will see a downturn. The current procurement cost on the South Africa side has increased by US$1-1.50 per carton versus previous weeks, because Chinese importers are pushing for fruit. With more volume coming to the market, the market will be under pressure."

Huang is "cautiously optimistic" for the rest of the Southern Hemisphere citrus campaign, but he does not see consumers showing any special preference for citrus on account of its high Vitamin C content. "The pandemic is largely under control in China, so there is no panic atmosphere," he said. "We are living a normal life, just with fewer public activities."
Read more on the Southern Hemisphere citrus campaign and news from across the industry in the upcoming July-August edition of Asiafruit.
Asiafruit is now available to read on your phone or tablet via our new app. Download it today via the App Store or Google Play and receive a two-week free trial along with access to previous editions.