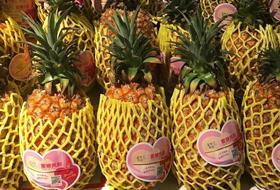 China has suspended pineapple imports from Taiwan citing 'harmful creatures'that could pose a threat to Chinese agriculture.
According to a report from Reuters, China announced on 26 February that the ban would commence on 1 March, a move condemned by Taiwan's leaders.
Taiwan's President Tsai Ing-wen took to social media in response and called on local consumers to buy pineapples.
"China sent an ambush-like notice, unilaterally suspending the imports of Taiwan pineapples. This obviously was not a normal trade decision," Tsai said.
"To support the farmers, let's eat pineapples all together!"
Taiwanexported around 46,000 tonnes of pineapples in 2020 and more than 90 per cent of them were sold to China, according to Taiwan's ruling Democratic Progressive Party. However, according to Taiwan's Council of Agriculture, only around 10 per cent of Taiwan's total pineapple production is exported.