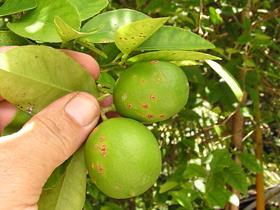 A retail nursery in the Northern Territory has reported a case of citrus canker on one of its potted lime varieties.
The patio plant has been removed from sale and all affected retail nursery stock has been held in quarantine to be disposed of safely. The plant variety is luckily not found in commercial production.
"We hope that this early detection and related activity to contain the disease through controlled movement of citrus plant material will give us the best chance of eradicating the disease," said Citrus Australia CEO, Nathan Hancock.
The Consultative Committee on Emergency Plant Pests (CCEPP), who provide technical and scientific advice in response to exotic plant pest and disease outbreaks, has now met to determine what the next steps will be.
Citrus Australia encourage all citrus growers (both commercial and backyard) to immediately report any signs of infection to the Exotic Plant Pest Hotline.
Anyone who has recently purchased a citrus plant from a Darwin or Palmerston nursery should contact the hotline immediately.
"Citrus canker has previously been found in Australia and was successfully eradicated," said Hancock.
Citrus canker devastated the Florida citrus industry when it swept through in 1910, 1986, and again in 1995 when it was declared unfeasible for eradication by the United States Department of Agriculture.