Throughout August this year, Shanghai residents from Lujiazui to Xujiahui will see ClemenGold-themed Number 985 buses on the road every day. It is part of this season's marketing campaign organised by ClemenGold distributor Shanghai Shengguo.
"We are using bus body advertising this year to penetrate the public traffic space," says Jason Liu, Shengguo international procurement manager. "The bus route covers Lujiazui, Dapuqiao and Xujiahui, all of which are major commercial districts with high-income demographics. There are many retailers stocking ClemenGold products in these areas as well.
"The month-long ad placement will give ClemenGold great brand exposure, and give consumers a strong impression of the products."
Shengguo has carried out multiple creative marketing activities for ClemenGold in China in the past, one of which saw it associating fruit with art by hosting a ClemenGold tasting event in Shanghai iSGO Gallery for gallery-goers.
Aside from its extensive marketing efforts, Liu also credits ClemenGold's success in China to its product quality.
"ClemenGold has become a stand-out among so many citrus brands present in the market. It is a leading South African citrus brand," he says. "Core, our South African partner, has strengthened quality control on the production end to further improve quality. It has also adjusted the grading specifications to fit the demands of the China market."
LemonGold in demand
Currently, ClemenGold and a number of its sister citrus brands are available in the China market. Liu has high hopes for Sweet C, ClemenOrange and LemonGold especially.
"The pandemic has driven demand for Vitamin C-rich fruit such as citrus. The hot weather in recent weeks is also a factor that can usually stimulate citrus consumption," he explains.
From 12-17 August, Shengguo is hosting a 'Lemon Recipe & Cooking Show' at a City Super store at iapm Mall. The week-long event in partnership with leading retailer City Super aims to promote the seedless lemon brand, LemonGold, through product education, cooking tutorials and tasting.
"LemonGold lemons are already in high demand after our initial brand promotions. LemonGold's conveniently seedless characteristics, along with its unique aroma and taste, has created a positive market outlook in China," Liu says.
ClemenGold, LemonGold and their sister brands will be available at stores nationwide through mid to high-end retailers such as RT-Mart, Wellfruit, City Super among other chains, Liu notes.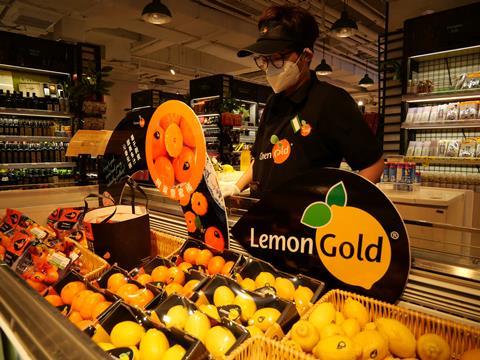 Brand protection
ClemenGold International has also reminded traders in China that it is the exclusive owner of the ClemenGold trademarks in a number of countries, including China. The company underlines that unauthorised use of the ClemenGold brand, the word ClemenGold, the logo, fruit sticker and packaging, is illegal.
"We will continue our efforts to enforce our rights and not allow any imitations or passing off, as both have the potential to erode our brand identity," says Adéle Ackermann, marketing manager of ClemenGold International. "The teardrop trademark is officially registered in China and in other parts of the world."
Ackermann says ClemenGold employs agents in all its markets to root out infringements and will take legal action under China's Trademark Law against infringers.