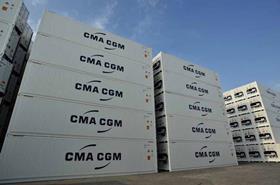 CMA CGM Group has opened its fourth and largest container depot in Cakung, East Jakarta, Indonesia.
Occupying a site of 35,000m2 with an operating capacity of more than 4,000 TEUs(twenty-foot equivalent units) containers and is designed to designed to enhance inland logistics services.
CMA CGM depots handle more than just container stuffing, cleaning and repair as well as pre-trip inspection, pre-cooling of containers and reefer monitoring services. They also specialise in converting and outfitting standard containers into customised containers.
The Cakung depot is the latest addition tothree other CMA CGM depots in Marunda (Jakarta), Cikarang, and Surabaya. With the Marunda facility operating at full capacity, the opening of the new Cakung depot is a welcome addition to the Group's capacity.
John Lim, general manager of CMA CGM Indonesia, said shippers now have two depot options by the Group in Jakarta that they can rely on for their logistics and shipping needs.
"Our new depot in Cakung is designed to improve our inland logistics service and optimise our shipments in better ways," said Lim.
"Our depots are therefore important in enabling CMA CGM to fulfil the high standards we promise our Indonesian exporters and shippers."