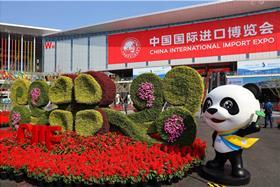 Ministers from Vietnam and Estonia were among the delegates at China International Import Expo 2019 (CIIE) turning to Jiuye Supply Chain Management (Jiuye SCM) to improve their supply chain.
Tran Thanh Nam, deputy minister of agricultural and rural development ofVietnam, and Mark Javik, agricultural minister ofEstonia, both met with Jiuye SCM to discuss future cooperation on imports of fresh produce toChina.
In addition to this, the Chinese cold chain specialist hosted several sessions with business delegates fromthe Philippines,AustraliaandCanada.
Bing Zhang, chief executive of Jiuye SCM, said innovative, integrated and seamless supply chain management was needed to boost the amount of fresh produce being imported by China.
'CIIE is set to simplify and increase in fresh and frozen product imports toChina, to support this, a robust cold chain solution is required to ensure the import quality of products," Zhang said.
"With our expertise in integrated supply chain management, we aim to facilitate the global circulation of fresh food, forming an all-in-one platform to boost trade and the efficient allocation of resources."