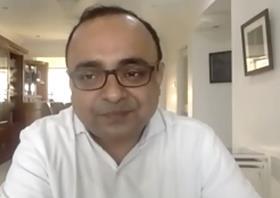 There's no shortage of Indian customers willing to experiment with new products or brands, it's just a matter of investing in the right places.
This was a key take-home message from the opening session of Fresh Produce India 2021 on Thursday (22 April).
Over 650 registered delegates from 54 countries tuned into the online event, which combined exclusive, informative content with high-level networking opportunities.
In the opening session, Dipayan Baishya, head of strategy and communication at leading retailerFuture Group, shared expert insights on retail and consumer trends in India.
Discussing the enormous cultural and economic diversity that exists within India, Baishya made the revelation that dealing with the South Asian nation was like "dealing with the whole of Europe at one go".
"If you try and paint this whole country as a single canvas, you will be wasting a lot of dollars trying to attract customers who won't really give you the money," Baishya told Asiafruit editor John Hey. "Understanding this diversity becomes very important."
Targeted marketing
Breaking down India's economic divide, Baishya said India was a US$2 trillion economy that could roughly be split into halves.
"There's a US$1 trillion economy made up of 1.2bn people, who's income levels are almost equivalent to those in sub-Saharan Africa. They're not really the 'consuming' class yet in this country," Baishya explained.
"There's another US$1 trillion economy that's roughly distributed among 40m consumers or 10m housholds in India – this customer segment has an income segment much higher."
Baishya said this affluent consumer base presented an enticing opportunity for premium suppliers.
"The customer out here is very much willing to experiment, and there is a fairly decent number of customers who can afford a premium on many of these products, especially in the urban centres," Baishya said.
"You've really got to focus on what we call the 'India One' customers, these 40m customers who have a very large per capita income. Talk with them, interact with them, engage them and cater to them."
Fresh is best
When it comes to modern retail in India, Baishya said fruit and vegetables remain the hot ticket item. With a great deal of the aforementioned 'India One' consumers shopping through chain stores, the opportunities appear plentiful for international suppliers.
"What really delights the customer is the freshness in the fruit and vegetable segment, and the kind of variety you bring to the customer.
'A lot of retailers are investing in the backend to create that environment in the front end to sell fruit and vegetables.
"We're also looking for partners, not just in India but globally, to work with to bring in new fruits and vegetables to the customer.
"We've had some really positive experiences with bringing in new foods – kiwis, avocados, Washington apples. It takes a bit of time, you've got to be patient, but if you can match the product with the particular community the results can be amazing out here."
Omnichannel approach
The push towards online retail has accelerated in many Asian markets since the onset of Covid-19, and Baishya said India has been no exception.
"No doubt there are customers wanting to buy online, and retailers should be ready to service them," he explained.
"The challenge is, servicing the customer online is a lot more expensive than at the door, especially when it comes to high-frequency temperature-dependent products like fruit and vegetables out here."
Mirroring markets like China, Baishya believes omnichannel retail strategies are best suited to India.
"I think the physical format will be important for introducing the customer to many of these newer products. The smarter retailers are figuring out how to balance both of them (online and offline retail), and how to create stores that service both the customer online and when they come into the store."