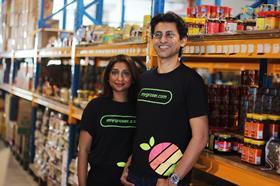 MyGroser, a Malaysian online grocery startup has not only been able to adapt to the coronavirus (Covid-19) pandemic but has grown exponentially, prompting its first round of public funding.
The service was launched in 2019 and has remained active throughout Malaysia's Movement Control Order (MCO) period, delivering groceries including fresh produce to consumers in lockdown.
Stephen Francis, chief executive and co-founder of MyGroser, said demand for convenient, affordable produce has grown an incredible amount.
'We have seen thedemand for grocery delivery locally grow by over 1,000 per cent during the first part of this year and have seen ourown revenues and number of deliveries made daily grow ten times during just the past two months," Francis said.
"On the back of this, we areaccelerating our expansion plans to better meet the demand for convenient, fresh and affordable produce, everyday essentials and groceries that we are seeing from our consumer and business customers."
MyGroser is raising funding in support of its aim to be profitable within 12 months with expansion beyond Kuala Lumpur to other cities inMalaysiasoon after.
This round, which is being run as a rolling close, is being targeted towards supporting the incoming customer demand that has already been secured through strategic partnerships for the next 24 months.