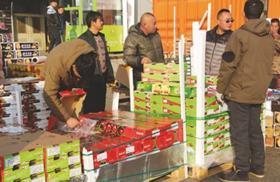 Beijing's largest wholesale market for fruits, vegetables and meats,Xinfadi market,was closed on 13 June after the discovery of a Covid-19 outbreak.
Authorities in China's capital were quick to close the market for disinfection after some workers at the market tested positive.
According to a report from the Sydney Morning Herald, health authorities conducted over 70,000 tests on 14 June and as of 16 June market 106 positive cases were connected to the market.
Zhang Yuxi, chairman of Beijing Xinfadi Wholesale Market, told Beijing News the virus had only been linked to seafood facilities and no positive samples found on facilities in the market vegetables or fruit.
One fresh produce trader told Asiafruit that due to the outbreak suppliers have largely avoided coming to the market, which is causing a supply shortage.
This has been exacerbated by the fact all the goods inside the market at the time of the closure will not be traded.
The closure has had less of an effect on retailers such as Walmart, which announced that its products are sourced directly from production regions and are not associated with the market.
Asiafruit is now available to read on your phone or tablet via our new app. Download it today via theApp StoreorGoogle Playand receive a two-week free trial along with access to previous editions.