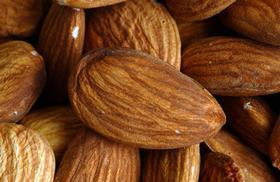 Australian almond producer Select Harvests doesn't anticipate recent weather events to impact its production volume this season.
The company has harvested 50 per cent of its 2021 crop, with favourable conditions across its orchards in Victoria and South Australia.
Rain has disrupted the harvest in New South Wales.
"Fortunately, the open shell non-Pareil variety harvest has been completed with little disruption," said Paul Thompson, managing director of Select Harvests. "The product affected is the later harvested closed shell pollinator varieties. Closed shell varieties are less vulnerable to wet harvest conditions.
"We anticipate completing harvest in the next few weeks, weather permitting. We are not anticipating any volume impact from the rain and maintain our original forecast of over 27,700 tonnes."
While almond suppliers in the US and Australia – the world's two largest producers of the nut – are experiencing shipping delays due to container shortages and Covid lockdowns, consumers demand remains high.
"Despite these challenges, underlying demand remains strong and we are confident consumption will continue to grow as distribution channels return to normal. Market pricing has remained at between A$5.50–A$6 (US$4.2–US$4.5) per kg."