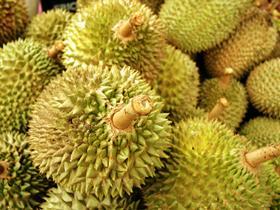 International delivery service provider, DHL, has launched a new express service to help Malaysia's durian business owners meet surging demand for the popular fruit in key export markets.
In a statement, DHL guaranteed Malaysian durian exports to Hong Kong and Singapore would arrive in under 24 hours.
'The service demonstrates our longstanding commitment to the Malaysian small and medium enterprise community, as we continue to help them look beyond our shores and realise their growth potential," explained DHL Express Malaysia managing director, Julian Neo.
Durian Express allows business owners to make shipments to their own overseas warehouses, commercial entities like greengrocers and supermarkets, or residential and office addresses.
Break bulk is also available for large-volume orders that can be divided into smaller consignments and individually dispatched to separate locations
Neo said the two countries are Malaysia's main trading partners for durian, with consumers eager to get their hands on the highly sought-after Musang King durian.