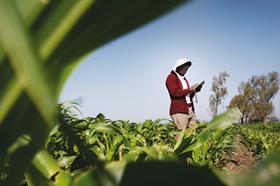 Bayer and XAG have announced a strategic partnership to bring, promote and commercialize digital farming technology in Southeast Asia & Pakistan (SEAP).
The companies will enable smallholder farmers in SEAP access to digital farm management know-how and technology, allowing them to grow more with less.
The collaboration aims to address challenges including labour shortage, water availability, product stewardship and safe use, and most importantly,
Andre Kraide, country head of South-East Asia and Pakistan of Bayer, said efficiency was key to the future of farming in the region.
"It is estimated that around 500m smallholder farmers produce 80 per cent of the food consumed in the developing world," Kraide said.
"We know that we need to double food production to feed 10bn people by 2050, but we also know that we will not get more land or resources to do so. This is where digital farming comes into the picture."
Kraid said cooperation would be key to reaching this goal, not only between Bayer, XAG and farmers, but the wider community.
"We look forward to working closely with XAG, our channel and value chain partners, as well as the governments and other key stakeholders in the countries to leapfrog the smart agricultural movement in SEAP from farm to table," he added.

Under the agreement, Bayer and XAG will jointly explore commercial collaboration in SEAP, including the distribution of XAG products and solutions through Bayer's channels, as well as joint promotion and market development efforts including establishing channel service providers with local business partners in the countries.