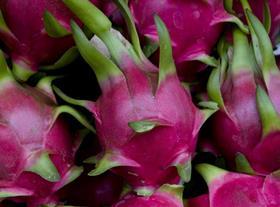 China's decision to restrict dragon fruit imports from Vietnam has left growers with around 300,000 tonnes of nearly ripe fruit and a lack of buyers.
According to a report from VnExpress, Vietnam's dragon fruit industry has been searching for alternatives as the significant volume of fruit gets closer to harvest.
Phan Van Tan, deputy director of Binh Thuan's Department of Agriculture and Rural Development, said containers have piled up due to restricted trade at the border between China and the northern provinces of Quang Ninh and Lang So.
The situation has caused some Chinese buyers to stop purchasing Vietnamese dragon fruit and exporters have had to search for alternatives. Some exporters have turned to seafreight however, this is not considered a sustainable solution given high freight rates and congestion at ports.
Deputy minister of industry and trade Tran Thanh Nam suggested Vietnamese supermarkets help by purchasing the fruit to support farmers. The Ministry will also hold a forum with trade offices in Europe to diversify output, he added.