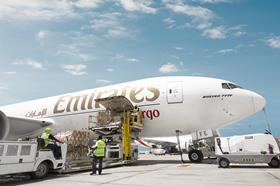 Pakistani mango exporters have been able to continue trade during the Covid-19 pandemic with the help of Emirates SkyCargo, which has transported more than 10m mangoes this season.
According to a report from The News International, the airline said it had offered weekly flights to and from five cities in Pakistan. It utilised full freighters and passenger aircraft to deliver the mangoes to markets including the UK, US, Canada, Australia, France, Singapore, Malaysia and the UAE.
Faisal Yaqoob, cargo manager, Pakistan of Emirates, said the airline was glad to be able to help mango exporters overcome the challenges of the pandemic.
"Pakistan is a major mango producer and we are pleased to offer our cargo services to Pakistani exporters even during these difficult times," Yaqoob said.
"Ensuring the highest levels of safety and expertise – Emirates SkyCargo continues to leverage its extensive network and innovative equipment to ensure mangoes and other produce retain freshness and are safely delivered to more than 110 cities around the world from Pakistan. We are glad to make an important contribution to the export industry of Pakistan as well as the country's overall economy."