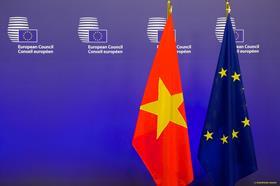 After signing a raft of free trade agreements, the Vietnamese horticultural industry has primed for expansion and has been encouraged to make the most of new opportunities.
Lê Thanh Hòa, Vietnam's deputy director general of the agro processing and market development authority spoke at a seminar organised by HortEx Vietnam and said lots of work had been done to increase access.
"By negotiating and signing 16 free trade agreements, including the Vietnam - European Union Free Trade Agreement (EVFTA) and the Investment Protection Agreement (IPA) between the European Union (EU) and Vietnam in June, many opportunities are opening for export," Hòa said, according to Vietnam News.
"This will be a good opportunity for the expansion of Vietnam's fruit and vegetable export markets in the global production, processing and supply chain."
However, Hòa said changes were required within the industry to achieve the best results.
"To seize this opportunity, the whole industry needs to change its perception, actively seek directions to be able to integrate and better meet market regulations, improving the status of Vietnamese agricultural products," Hòa said.
"To achieve this, companies must equip themselves with market knowledge, updated technology, improve product quality and network with global supply chains," he added.