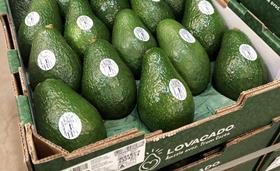 Australian fresh produce heavyweight Costa will ship Shepard avocados grown in Far North Queensland to Singapore and Hong Kong this season.
The move is said to be a first for the region, where the Shepard harvest is currently getting underway.
"Picking has kicked off and we will be harvesting our delicious, creamy Shepard Lovacados well into April for our consumers to enjoy," said Cormac te Kloot, Costa's divisional manager avocado and banana marketing.
"We are also sending our first container of avocados from the Atherton Tablelands to Singapore."
Developing new export markets is a priority for Costa's avocado team.
Through the Food Agility CRC, the company has been working with the Australian Department of Agriculture and Fisheries and Queensland University of Technology on the Improving Avocado Exports project.
The project is developing data models that identify the lead indicators of avocado robustness at various stages of the supply chain and determine if and when an avocado is suitable for export.
While the shipment to Singapore is a welcome step, Queensland growers are also calling on the Australian Government to establish access to Japan, putting them on equal footing with West Australian growers who are already exporting to this market. Trade restrictions remain in place for Queensland-grown avocados due to Qfly.
"We are continuing to call on the Federal Government to provide access to new export markets, particularly Japan," te Kloot said.
"We already enjoy strong and effective trade relations with Japan - allowing Queensland avocados into the Japanese market will only further enhance this strategic bilateral relationship."
The urgency to forge new export pathways stems from a boom in Australian avocado production.
Based on forecasts developed by peak industry body Avocados Australia, production is likely to exceed 115,000 tonnes by 2025, up from 87,546 tonnes in 2019/20 and 46,446 tonnes in 2008/09.
"While domestic consumption continues to increase, with Australians now eating on average 3.7kg a year, we also need to establish new export markets for Queensland growers to ensure the industry remains sustainable in the long-term" te Kloot said.