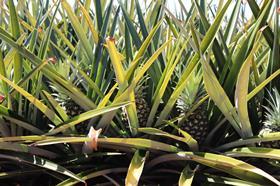 China's pineapple industry has identified an opportunity to grow its exports as demand for the yellow fruit increases in Asia.
According to a CGTN report, the Regional Comprehensive Economic Partnership (RCEP) has opened new doors for Chinese pineapple growers from major production regions such as Xuwen County.
Xuwen County's pineapple production has long served the domestic market, but exports commenced in 2017. The region's export volume has slowly grown since then and RCEP has the potential to fuel further growth.
In February 2022, pineapples from Xuwen were exported to Singapore for the first time under the framework of the RCEP.
'The pineapples have already arrived in Singapore, and they're ready to be purchased online. Many Chinese living in Singapore purchased them and were very happy to enjoy the flavour from their homeland," said Huanf Yidu, chairman of Circle Logisitics.
The Chinese industry faces competition from other Asian producers who can often offer a lower price point and in some cases domestic product.
However, Huang Weihua, director, division of exchange and cooperation of Guangdong Province's Department of Agriculture and Rural Affairs said efforts are underway to improve the Chinese offering.
'We usually choose better and new varieties of pineapples for export. Traditional old varieties do not fetch very high prices in the market,' said Huang.
"Higher returns in foreign markets will attract our farmers to either make improvements to their current varieties or select better varieties.'