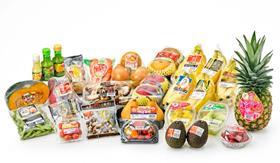 Farmind Corporation, one of Japan's leading fresh produce distributors, has announced it has agreed an MoU with JWM Asia Holdings to acquire the group's Japan subsidiary, JWM Asia Japan (formerly known as Capespan Japan).

Under the deal, agreed on 29 October, JWM Asia Holdings, which is a joint venture between China's Joy Wing Mau Group (60 per cent), South African group Capespan (30 per cent) and JC Starlight Capital (10 per cent), will sell its shares in in JWM Asia Japan to Farmind effective 31 December 2019.

The operations of JWM Asia Japan, a 100 per cent subsidiary of JWM Asia Holdings, will be integrated into Farmind through a share transfer.
JWM Asia Japan, formerly known as Capespan Japan, was founded in 1964 and previously owned by Capespan. The Tokyo-based business was merged into JWM Asia, alongside Hong Kong-based Metspan, in 2017 when JWM Asia was set up as a joint venture between Joy Wing Mau Group, Capespan and JC Starlight to focus on Asian markets outside of China.
CEO of JWM Asia, Noel Shield, has been heading up JWM Asia Japan for the past five years (including a two-year contract running Capespan Japan), and negotiated the sale of the business to Farmind.

With annual sales estimated at around ¥6bn (US$55m) in 2018, JWM Asia Japan is a well-established importer sourcing from South Africa, North America, Latin America and Australasia. Citrus, including grapefruit, remains one of its key categories, with the company's Outspan brand widely recognised in Japan. Other products include avocados, grapes, mangoes and berries.
JWM Asia Japan also offers a range of pre-pack lines to wholesalers and retailers around the country, and opened a dedicated warehouse and pre-pack facility in Yachiyo (China Prefecture) in February this year.

In a notice to suppliers regarding the agreement, Shield announced he would resign from his role as CEO of JWM Asia Holdings with effect from 31 January 2020, but he will continue in a management and consultancy role with Farmind Corporation for the duration of the integration of the JWM Asia Japan business.

Farmind has a network of 14 distribution, ripening and value-adding facilities across Japan, providing nationwide coverage. Its operations encompass multiple sectors, including sales and procurement (with a strong focus on servicing retailers), warehousing and distribution, farming, ripening and processing, information technology, marketing and field merchandising, and e-business services.

The group handles a wide range of fruit and vegetables, from imported products, such as bananas, avocados and pineapples, to domestically grown fruit and vegetables.

In a statement, Farmind said the deal would enable the company to expand its range of imported fruit and vegetables through the addition of JWM Asia Japan's citrus and other products.

"We will also strengthen our supply base by diversifying our import sourcing in preparation for recent frequent weather changes," said Farmind's statement.

Farmind added that it would gain operational efficiencies from JWM Asia Japan's integration, both in terms of complementary customer bases and integration of distribution centres and logistics.

In a notice to JWM Asia Japan's customers regarding the sale, Shield said the management and staff of the company would remain in their current roles, trading terms would remain the same, and that the company would "continue to be managed in its current operational format, in parallel with existing Farmind operations" until otherwise advised.

"With their strong commercial platform and experience in the fruit industry, Farmind Corporation will add a new dimension to the company, and I am excited and looking forward to being associated with this progressive company,' said Shield.
Capespan sold its minority shareholding in Chinese heavyweight Joy Wing Mau last September, but the companies remain joint shareholders and partners in JWM Asia. JWM Asia represents Capespan in Asia (apart from China). Capespan South Africa and JWM Asia South Africa both supply Joy Wing Mau Group and work together, although Joy Wing Mau and JWM Asia are run independently.