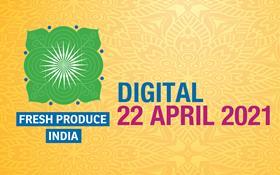 Fresh Produce India was a big hit in April 2020. More than 650 decision makers from across the globe tuned in when India's favourite fresh produce went online. It brought together a brand-new group of people from all over the world to discover the big business opportunities in India.
Fresh Produce Indiais now enhancing its digital format in 2021. New networking tools mean visitors can load their own profile to connect and interact with all attendees via live video and private chat messaging before, during, and after the event.
The eventtakes place on 22 April 2021. A top-quality programme of live interviews, discussions, and presentations will bring visitors the best insight on the biggest trends in India's fast-growing fresh fruit and vegetable business.
This includes information on fresh opportunities for imported fruits, along with a look at how online channels are providing new and exciting consumer-direct options for promoting products and brands in India. The programme also examines new investments in India's own fresh fruit and vegetable production and supply chain technologies.
All sessions will be fully interactive and speakers will be on-hand to answer questions during and after their sessions.
Click here for more information on how you and your company can be involved in Fresh Produce India.