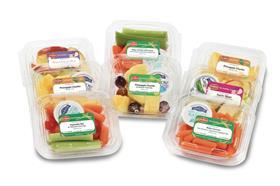 Fresh Del Monte Produce has showcased its aggressive growth plan and innovation in the fresh cut segment, opening a newly completed plant in Yokohama, Japan.
According to a report in Business Wire, the state-of-the-art fresh cut plant has an annual production capacity of 10,000 tonnes of fruits and vegetables, and will serve as a manufacturing base that satisfies the increasing need for ready-to-eat fresh and convenient fruits, salads and vegetables across Japan.
Construction on the US$19m facility began last year, with stringent hygiene protocols and a cutting-edge low-temperature air condition management system to maintain product quality and freshness included in the build.
President and chief operating officer of Fresh Del Monte Produce, Youssef Zakharia, said the company identified significant growth in demand for fresh and high-quality produce across Japan.
"Today, more than ever, our consumers are looking for fresh ready-to-eat options. Our plant in Yokohama will maximize our wide range of products, driving growth and innovation in our fresh-cut segment," said Zakharia.
Business Wire reports the plant will focus on the metropolitan area of Tokyo and its 37m residents.
Kunihiko Katayama, general manager of Fresh Del Monte Japan, said the opening represented a milestone event for the company.
"We have worked extensively on this project and considered every detail. It is exciting to finally see our work come to fruition as we continue to supply our customers with fresh and ready-to-eat produce," said Katayama.
Asiafruit is now available to read on your phone or tablet via our new app. Download it today via theApp StoreorGoogle Playand receive a two-week free trial along with access to previous editions.