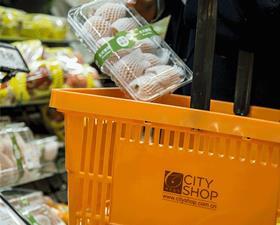 The online-offline retail integration trend continues in China's fresh produce business, as major Chinese e-tailer Fruitday recently announced its investment in high-end supermarket City Shop.
"Fruitday and City Shop are now long-term strategy partners. We will integrate our fresh food businesses, and push for the establishment of a new retail format in premium fresh food consumption," Loren Zhao, Fruitday co-founder, tells Asiafruit.
City Shop was Shanghai's first boutique supermarket specialising in imported goods. Now more than 20 years since it was founded, the supermarket chain has 13 stores in Shanghai and two in Beijing. The company has invested heavily in the upstream and supply chain to strengthen its premium fresh food offerings. "Our demographics, values and service concepts are well matched. Our resources will complement each other and we expect great synergy in our partnership," Zhao says.
In the initial stage of the partnership, Fruitday will take charge of City Shop's fresh food section in its 15 stores and supply the same products offered on Fruitday's online platforms, Zhao explains. Fruitday will also utilise City Shop stores as its community shopping centres to fulfill online orders within a 5km radius, with the fastest delivery achieved in under 29 minutes.
"For Fruitday's more than 100m online users, City Shop stores also act as experience centres," Zhao explains. "People can buy the same products they have seen in the app, things like Zespri SunGold kiwifruit, New Zealand Envy apples, US Ruby cherries and Florida grapefruit, all the quality fresh fruit products we have sourced from around the globe. Shoppers can also enjoy a one-stop food and restaurant service there."
As online and offline retailers continue to cooperate and merge in China, a new retail concept is beginning to take shape, something Zhao believes is inevitable in China's current consumption upgrade process.
"Nowadays, fresh fruit consumers want to have their orders delivered with a click of a button, but they always want to shop offline and experience different shopping environments. They want to be able to switch seamlessly between online and offline. The Fruitday-City Shop cooperation is to satisfy this demand. It is a continuation of Fruitday's effort to make sure everyone can enjoy the best fresh fruit in an effortless manner," Zhao says.
As Zhao points out, the much talked about O2O (online to offline) concept is irrelevant to consumers. "Whether it is e-tail or bricks-and-mortar, they are both a medium for consumer service. Consumers don't care to learn the concept of O2O. What they want is better service and better product quality."
What does this means to China's global fresh produce suppliers?
"Under the new retail concept, online and offline traffic converges. The cooperation between Fruitday and City Shop is undoubtedly a good thing for global fresh produce suppliers. Our offline extension gives new products a more direct reach to consumers, and maximises their marketing impact. The teardown of the wall between online and offline will bring brands a higher market recognition."