Jiangnonghui wholesale fruit market welcomes the start of the 2023 South African table grape promotion
South African table grape industry body SATI has announced the successful start of its 2023 promotional campaign in China, launched at Guangzhou's Jiangnonghui wholesale fruit market.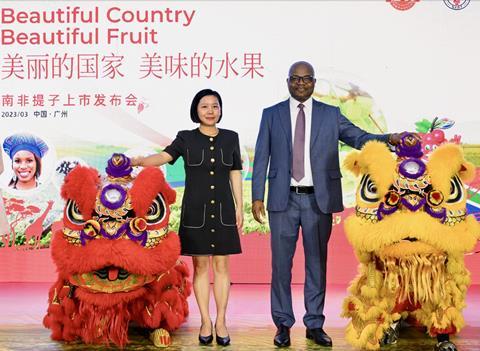 "Joining us at the event were representatives of the South African embassy in China, South Africa's Western Cape government, and leading Chinese fresh fruit importer Goodfarmer," SATI stated.
"Along with China's unprecedented period of growth and economic development, consumers increasingly expect to be able to purchase high-quality and nutritious fresh fruit throughout the year," the industry body continued.
"Table grapes have long been a favourite fruit in China and consumers are eager to sample new varieties in novel shapes and colours that are sweeter and crisper than ever before."
A diversity of supply regions was especially important for table grapes, SATI noted, a perishable product that must be delivered to market and consumed within a relatively short time window.
"As a counter-seasonal fruit producer located in the Southern Hemisphere, South Africa stands ready to serve China's market demands," SATI said.
Focused strategy
This season, South African table grape exporters have cooperated to deliver a 2022/23 campaign in China that consisted of a focused approach to achieve shorter transit times and a narrower arrival window, with cultivars preferred by consumers in China.
The focused supply strategy has been bolstered with concurrent promotional activities by table grape importers and retailers in China which included the wholesale market event, as well as media outreach and retail events and promotions in multiple Chinese cities.
"We are thrilled to execute our China campaign this season and continue building relationships with the fruit industry in China," said SATI chief executive officer AJ Griesel.
"The lifting of epidemic controls in China means we can once again hold in-person events with traders such as the launch event in Guangzhou. It also means the return of in-store promotions for consumers."
Griesel also announced that South Africa would be hosting the tenth International Table Grape Symposium in South Africa at the end of November.
"We welcome the opportunity for more people to experience the quality table grapes South Africa has to offer," he said. "We therefore look forward to hosting industry delegates from around the world in South Africa this year."
Extensive footprint
At the Jiangnonghui event, Molatelo Mamadi, agriculture counsellor at the South African Embassy in Beijing, said South Africa had footprints of table grapes in many countries around the world, including the EU, UK, US and Canada.
"All these countries hold South African table grapes in the highest regard for their premium quality and compliance with export standards applicable to those markets," said Mamadi.
"South Africa has been exporting table grapes to China for several years and is holding this campaign for the third year in a row, with its table grapes currently enjoying status for their good quality and sweet taste."
During the last two seasons, the most popular cultivars exported to China were Crimson Seedless, AutumnCrisp, Sweet Globe and Sweet Joy," SATI outlined.
The industry body noted that that the 2022/23 South African table grape season had almost reached its conclusion.
"To date, the industry has exported 61.3m cartons (4.5 kg equivalent) or 275,850 tonnes of table grapes," SATI confirmed. "By the end of the season, it is anticipated that South Africa will have exported approximately 63m cartons or 283,500 metric tonnes of the fruit worldwide."