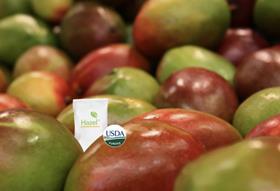 Hazel Technologies has announced a new partnership with Holistic Solutions Global (HSG), a vertically integrated grower-exporter-marketer from the Dominican Republic.
The partnership focuses on the use of Hazel Technologies' shelf-life extensionsolutions for tropical fruit exports, most notably mangos.
HSG markets the Caribe Farms, Tropicados and Sweet Caribe brands across North America, Europe, and Latin America.
"The addition of Hazel Tech to our full line of tropical fruits is just the latest of many steps we have taken at HSG to ensure the highest product quality," said Harvey Garcia, president of HSG, "Our expectation based on test data is to consistently achieve over 30 per cent longer shelf-life with Hazel Tech in our supply chain."
Mango production in the Dominican Republic has increased by over 600 per cent since 2003, according to HSG, with Keitt, Mingolo and Banilejo the leading varieties.
Aidan Mouat, chief executive of Hazel Technologies, said the company was looking for new avenues to extend the reach of its products.
"Expanding our international footprint is a key future focus," said Mouat. "Hazel is determined to reduce waste and improve the efficiency of the perishable supply chain not just in the US but across the globe."
Founded in 2015, Hazel Technologies' solutions revolve around the controlled release of active, shelf-life enhancing vapor from packaging materials, as well as other supply chain related technologies. The company's patent-pending technologies have been tested by many of the US' top academic research programmes, including UC Davis, Cornell University, and Oregon State University.