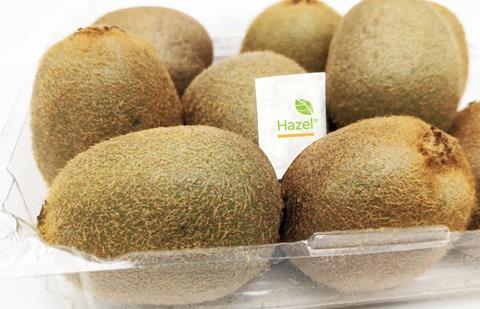 Hazel Technologies has completed two successful supply chain trials with its shelf life-extension solutions on kiwifruit.
Researchers at the University of California Davis (UC Davis) found Hazel packaging can help kiwifruit maintain post-harvest characteristics, such as firmness and weight, in standard supply chain conditions.
The trial involved two varieties of kiwifruit, green Hayward and gold Soreli. Hazel packaging inserts were placed within consignments of the fruit following packing. The fruit was then stored for a total trial length of up to 47 days, with a team of researchers periodically assessing the trial samples for standard quality traits.
"In our trials, 'gold' kiwifruit had stronger skin when treated with Hazel regardless of the evaluation time point," said Dr Barbara Blanco-Ulate, professor at the Department of Plant Sciences at UC Davis. "There was a positive effect of Hazel in preventing weight loss of the 'green' kiwifruit after most periods of cold storage."
In a separate study, global produce grower-marketer-distributor Oppy observed consistent positive results on shelf life after commercially testing Hazel packaging on its kiwifruit.
With more than 50m cartons of fresh produce passing through its inventory annually, Oppy is one of the largest kiwifruit marketers in the US.
"We are always evaluating potential innovative technologies that will allow us to continue to provide world-class quality fruit to our customers," said Patricio Mendoza, national quality manager-US & Canada at Oppy. "Our data shows consistently higher quality when using Hazel Tech in our kiwifruit supply chain. Based on these results, our plan is to expand the programme."
Hazel Technology's solutions revolve around the release of active, shelf-life enhancing vapor from packaging materials. Hazel sachets are placed in boxes of bulk produce by packers soon after the time of harvest, extending the shelf-life of produce up to three times by slowing aging in produce and preventing decay.