Alwyn van Jaarsveld, IFG's international cherry commercial manager, discusses the leading fruit breeder's expanding varietal portfolio
What's new with IFG in cherries?
Alwyn van Jaarsveld: In 2023, consumers and retailers can expect to see even more IFG cherries in the US and other countries. As the plantings start to mature, more IFG cherries can bloom earlier in the season – getting a head start in retail.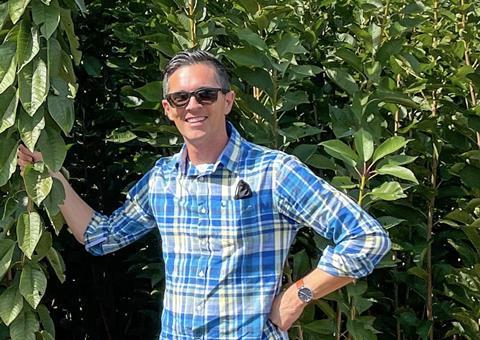 We have a very special flavor up our sleeve, but we are not letting the cat out of the bag yet. What we can say is this newest release is temporarily called 'IFG Cher-ten' – the actual trademark name will be announced early next year (2023).
Can you tell us about some of the characteristics of this new offering?
AvJ: IFG Cher-ten used to only blossom under low-mid conditions in such places as Southern California. However, it wasn't until our recent Chile cherry season that we could ascertain the outstanding performance and adaptability IFG Cher-ten has to low-chill environments. IFG Cher-ten has the potential to yield a good crop during winters when the chill accumulation is less than 300 chilling hours.
IFG Cher-ten is a big heart-shaped fruit with very long stems that can stay fresh even after 40 days of storage.It has good firmness and a nice flavor profile.
On this note, how is your low-chill breeding programme developing?
AvJ: IFG's low-chill cherry breeding programme continues to blossom, allowing cherries to be grown in regions that, to date, were less suitable for cultivation. In the past few years, strange weather phenomena globally have resulted in many fruit-growing areas experiencing hotter-than-average temperatures. IFG's low-chill cherries are better adapted to such conditions.
Growing cherries in more regions around the world than ever – and earlier – allows for a more consistent supply for retail. It also helps us open the cherry season with fantastic flavour and a great eating experience, enticing customers and growers alike.
All of IFG's Cheery Cherry varieties, regardless of the chilling requirement, are harvested early in the season. Therefore, our cherries provide a make-or-break experience that will entice the public to buy again.
Looking ahead, what's in IFG's cherry pipeline?
AvJ: IFG not only uses modern technologies to ensure that the genetic material used can produce outstanding fruit, but we also grow the trees in a very harsh environment. This allows us to weed out the weaker progeny and ensure robust, hardy varieties that are grower-friendly and can withstand the rigor of warm, dry summers, while still producing a good crop.
All our varieties are non-GMO and are tested to maintain quality over weeks of storage.
While IFG currently offers ten cherry varieties, we are planning more releases that will join the ranks over the next few years. There are some great varieties that are starting to bear fruit, and we believe all our customers and retail partners will be pleasantly surprised in 2023 and beyond.
This interview appeared in Fresh Focus Cherry, part of the December 2022/January 2023 edition of Asiafruit Magazine. You can read this edition via the Asiafruit app.