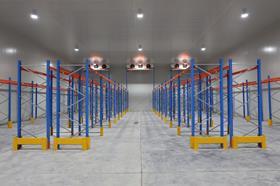 Leading Indian fruit importer IG International has announced the launch of a new cold storage facility in New Delhi as part of its ongoing collaboration with major Indian logistics and supply chain specialist JM Baxi Group.
The 3,000m2 facility has the capacity to store 3,500 pallets, maintaining temperatures ranging from 0oC to 2oC, according to a media release from IG International.
The new operation takes IG's total number of cold storage facilities across India to seventeen, as the group forges ahead with plans to expand its national footprint.
The new facility is strategically located in Sonepat in the National Capital Region (NCR) where JM Baxi operates an inland container depot – Delhi International Cargo Terminal– and the construction marks IG's second collaboration with the leading Indian logistics group.
In 2020, the two companies joined forces in a project to develop "world-class storage facilities" to speed up handling and transportation of perishable cargoes across the country.
IG and JM Baxi have already collaborated on the construction of a cold storage facility near the port of Mumbai. The facility uses JM Baxi's existing container freight station in Nhava Sheva to reduce lead times and enhance IG's deliveries across India.
The newly launched facility in Sonepat has a railway siding and a 60-acre container freight station to facilitate seamless handling of rail and road freight, according to the media release.
Commenting on the launch, IG International director Tarun Arora said: "We are committed to providing the best quality fresh fruit to our Indian customers, and our leadership in cold chain maintenance allows us to do that.
"The terminals enable us to be flexible and make our operations agile. The train or trucks can park simultaneously in the Delhi facility, giving us a competitive edge in handling scalable volumes.
"The facility is strategically located at Sonepat and it is efficient and cost-effective for export-import and domestic cargoes in Delhi/NCR."
In addition to Delhi and Mumbai, IG has cold chain facilities in Panvel, Bangalore, Chennai, Ganaur, Chandigarh, Jaipur and Amravati.
IG International confirmed it plans to expand its presence pan-India in collaboration with JM Baxi with similar cold chain terminals.