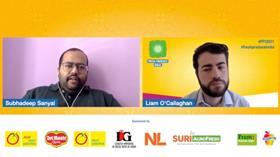 As Fresh Produce India turned its attention to India's rapidly expanding ag-tech start-up sector Omnivore's Subhadeep Sanyal spoke to the trends influencing the growth.
Sanyal, a partner of the venture capitalfirm, outlined how the young sector – which features around 1,000 start-ups, most under five years old – had been on the rise, a trajectory that had continued through the Covid-19 pandemic.
"If I give a reference of our journey as Omnivore in the last ten years, we have never seen this level of investment interest or investment activity," said Sanyal.
"The uptake in investment in India began in 2018, but the last year has been phenomenal in terms of the speed with which companies have been able to grow. The kind of capital they are able to attract."
An environment for growth
Sanyal said the rise in mobile penetration across India and demonetisation, which helped a lot of people, especially merchants embrace online payments were two significant contributors to this growth. Covid-19 has also had an influence with start-ups well placed to capitalise on digitisation.
"One major disruption the Covid-19 brought to all our lives is the ability to work remotely and the ability to connect with your stakeholders digitally and food and agriculture was no different," said Sanyal.
"We saw farmer produce organisations… discover counterparties in cites or towns 800km or 600km away which was unheard of for them."
As consumers were locked down and businesses had to turn to deliveries, Sanyal said there was a shift in the demand for quality produce.
"Suddenly there were a lot more people who were expecting a certain quality of produce or were expecting a certain kind of produce to their house," said Sanyal.
"That is one big opportunity - we have seen a bunch of our start-ups who are working in the quality space - how do you identify and digitise quality right at the source, so your supply chain can get the right price for it?"
What's next?
Looking at the future for ag-tech start-ups Sanyal said he expected the sector to continue to grow as there were still plenty of untapped opportunities.
"In terms of the next two or three years in India, there is enough start-ups can do to just take care of the inefficiencies today," said Sanyal.
"Then if we are able to do justice economically to what we are growing, should we try and look at the pre-harvest stage and see if we can improve yields? The early stages of this are happening but I think that (trend) will then take up primacy.
"The third space I think will be about what we call food science. Will we look at better ingredients? Will we be looking at a higher nutrition profile in what we grow? Can we address things like climate neutrality?"