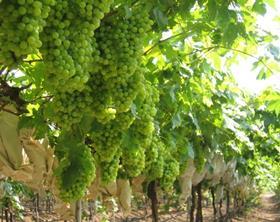 The outbreak of coronavirus has hampered India's table grape exports, with producers struggling to find enough workers for harvest, and a shortage in transport facilities causing headaches during the peak of the season.
The nationwide lock down ordered by Narendra Modi at the end of March made exemptions for fresh produce workers, but the table grape industry relies heavily on migrant labour, and with the borders closed, many growers are without their usual workforce.
According to India's Business Standard, non-essential shipments have clogged ports and airports, with agents or brokers not working due to the unavailability of logistics partners and transportation.
It has been reported that the country's customs clearance process has also taken as big hit due to the Covid-19 lockdown and the consequent difficulty in the movement of staff.
Table grape exporter from Nashik, Maharashtra, Rahul Sheth Bankar, told Business Standard even the domestic market has taken a hit.
"Despite the fact I am largely an export-focussed production, I am willing to sell my produce at less than half the rate in the local markets, but no one is willing to buy," said Bankar.
"Being a highly perishable crop, the ripened fruit can't be kept on the vines for long, while exporting them is out of question. Despite relaxation of the rules, things are simply not moving on the ground."
Bankar noted the issue is due to the availability of transport facilities and labour – of which there are few of either.
"Traders who bought grapes for Rs70 (A$1.52) per kg a fortnight ago, are now offering no more than Rs 10-12 (A$0.22)," he said.