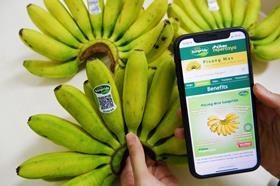 DiMuto, has partnered with Indonesian fruit distributor and marketer Sewu Segar Nusantara (SSN) to implement blockchain traceability to SSN's fresh produce business.
SSN is part of Great Giant Foods, thecorporate armof Gunung Sewu Group and a leading vertically integrated foodand agricultural products, which encompassesfresh and processed fruits.
It has a large distribution network covering many cities in several major regions of Indonesia, through general trade and modern trade in collaboration with many sub-distributors, wholesalers, retailers, modern market to distribute Sunpride-branded fresh fruit products.
SSN distributes and markets a variety of fresh fruits and specialises in local tropical fruits such as theCavendish banana, Honi pineapple, and Crystal guava. SSN has also partnered with a large network of around 500 local growers to source other produce including melons, papaya and pomelo. Sunpride also has partnerships with international fruit brands, such as Zespri.
Through a new blockchain traceability pilot project SSN will deploy several of DiMuto's product features including trade management, production management, inspection management and smart marketing to its domestic operations, connecting its sourcing team, warehouse team, quality team, sales team, and marketing team all on one single platform.
Every Pisang Mas fruit and carton moved through SSN's supply chain will be labelled with DiMuto's digitial identity labels and be digitalized with DiMuto's various digital asset creation devices. For instance, at remote packing houses where SSN's sourcing team works directly with local farmers, a mobile application version of DiMuto's production management specially developed for field operations will be used.
The DiMuto platform then connects digitised physical cartons and fruits to specific trades on its trade management feature – unifying product, document, and payment data for every purchase order. The ecosystem of product features on DiMuto enables SSN to seethe flow of goods and the flow of money associated with the flow of goods on a single platform.
As part of the farming blockchain traceability initiative, SSN is also working with distributors and retailers such as Super Lion Indo, to glean insights on produce quality at the retail level.
"We are pleased to work with DiMuto to deploy blockchain traceability to our supply chain for greater transparency that we can share with customers of Sunpride," said Cindyanto Kristian, president director of SSN.
"With blockchain traceability we are now able to efficiently and effectively trace and track each banana down to a particular farmer from a particular region as it travels through our supply chain.We believe that the blockchain is the future of agri-food process. This helps us to better manage our product quality and safety for our consumers."
Gary Loh, founder and chief executive of DiMuto, said he was excited by the prospect of partnering with SSN.
"We are excited to leverage this opportunity with a leading company like Sewu Segar Nusantara to help them achieve full supply chain visibility that benefits the various stakeholders along the supply chain, including farmers, retailers and end consumers," said Loh.
"By working closely with the local farmers to expand our traceability capabilities to the source, we can embark on smallholder farmer digitalisation and financing as part of our vision to use data as a driving force behind sustainable agriculture."