Asiafruit Congress and Asiafruit Business Forum deliver unrivalled combination of high-level insights and practical takeaways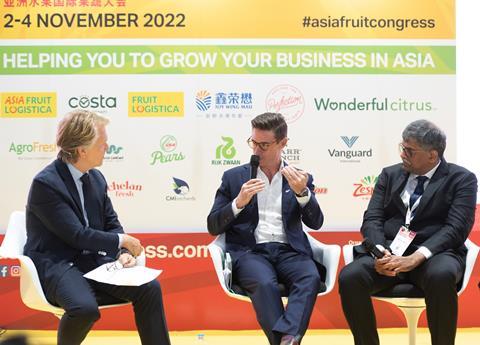 Visitors and exhibitors at Asia Fruit Logistica 2023 in Hong Kong can look forward to a wide-ranging event programme packed with information and insights.
Asiafruit Congress and Asiafruit Business Forum take place on the show floor across two stages, with both events free to attend for all Asia Fruit Logistica ticketholders.
Asiafruit Congress is back with a top-quality programme covering the latest market trends and opportunities in Asia. Asia's premier fresh produce conference takes place on the main stage across all three days of Asia Fruit Logistica on 6-8 September 2023.
Day One (6 September) focuses on Marketing & Consumers. High-level speakers analyse Asia's new market demographics and look at what's next for food retail across the region. Plus, a masterclass in fresh produce marketing brings together leading brand marketers to discuss the keys to a successful campaign.
Tech & Innovation is the theme for Day Two (7 September) at Asiafruit Congress. AI is powering new solutions for the fresh produce trade. Case studies demonstrate how AI is improving processes and considers how it might shape the future of the business. In a session on varietal innovation, global fruit breeders and marketers also explain how new cultivars are driving growth in Asia across several categories.
Day Three (8 September) homes in on Markets & Trade. Thought leaders look at the way the global fresh produce business does its trade, and they explain how technology and sustainability are giving rise to new models of working. An expert panel discusses China's changing distribution landscape, plus a spotlight on North Asia looks at market opportunities in Japan and Korea.
Go here for more info Asiafruit Congress and to view the full agenda.
Asiafruit Business Forum: triple track
In addition to gaining strategic insights at Asiafruit Congress, visitors can join a wide-ranging programme of informal workshops at Asiafruit Business Forum.
Asiafruit Business Forum presents three days of workshops under different tracks.
New for 2023, the Launchpad on Day One provides a platform for exhibitors to showcase a range of exciting products, technologies and solutions. It's a ready-to-speak forum where confirmed exhibitors and co-exhibitors can book a presentation slot.
Day Two at Asiafruit Business Forum features Partner Content. The International Fresh Produce Association (IFPA) delivers an education programme focused on food safety and retail merchandising. Asiafruit China also hosts a series of Chinese-language workshops with practical advice on developing a premium domestic fruit brand in China, from production through post-harvest to marketing.
Asiafruit Business Forum concludes on Day Three with the Logistics Hub, a series of workshops on cold chain logistics. A panel of industry leaders discusses the current situation and outlook for global reefer shipping. Expert talks also look at new solutions for fresh produce shippers, with workshops on shelf-life extension technologies, cold chain distribution and traceability.
More details on Asiafruit Business Forum are available here.
Asia Fruit Awards: meet the winners
The Asia Fruit Awards, the only pan-Asia awards for Asia's fresh produce business, are also presented at Asiafruit Congress on the expo floor at Asia Fruit Logistica 2023.
The Asia Fruit Awards celebrate excellence and recognise outstanding achievement in Asia's fresh produce business, with the winners selected by Asiafruit Magazine and Asia Fruit Logistica.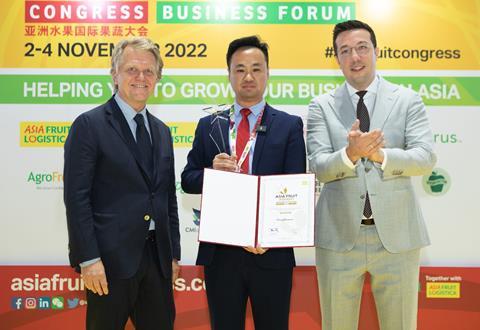 The Asia Fruit Awards are given in three core categories – Marketing Campaign of the Year, Importer of the Year, and Produce Retailer of the Year – while the Impact Award recognises a person or organisation that has made a significant contribution to developing Asia's fresh produce business.
The winners of the Asia Fruit Awards 2023 are announced in a special ceremony at Asiafruit Congress on Day Two (7 September).
"The Asia Fruit Awards set a standard for everyone in the business, so we're really excited to announce this year's winners and celebrate their achievements," said John Hey, editor of Asiafruit Magazine.
Asiafruit Congress, Asiafruit Business Forum and the Asia Fruit Awards presentation are free to attend for all Asia Fruit Logistica exhibitors and ticketholders.
The online ticketshop is open for Asia Fruit Logistica, which takes place on 6-8 September 2023 at AsiaWorld-Expo in Hong Kong. Visitors can purchase tickets now to save up to 40 per cent compared with registering onsite and skip the queues in Hong Kong.