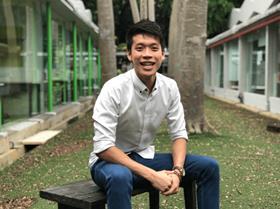 Start-ups harnessing technology to improve Asia's fresh produce supply chain have attracted a recent wave of investment.
Singapore-based Glife Technologies closed itsS$11m (US$8.1m) Series A round led by Temasek subsidiary Heliconia Capital.
The start-up runs an app and website that connects food and beverage businesses directly with fresh produce growers and according to Glife, it serves over 1,000 farmers and 900 merchants across South-East Asia.
Co-founder and chief executive Justin Chou said the new funds will be used to expand into Malaysia and Indonesia in 2022.
"This Series A funds will allow us to improve our tech-enabled supply chain distribution model and work closely with Novitee to create an efficient and effective solution for the ecosystem. It will enable us to move one step closer to feeding the entire South-East Asia region sustainably," Chou said.
TreeDots is another Singapore-based start-up that has closed its Series A funding, snapping up US$11m co-ledbyEast Ventures and Amasia.
TreeDots began as a surplus food marketplace for food and beverage businesses and now also serves consumers through a social commerce/group buying platform. It has recently expanded to logistics optimisation services to help enterprise customers build more efficient supply chains. It also expanded into Malaysia in 2020 and expects further regional expansion ahead.
On the commercial side, suppliers can earn incremental revenue from sending TreeDots goods that would usually be sent to landfill. TreeDots also helps to digitise suppliers' operations using an app, and the company recently launched TreeLogs, a cold-chain logistics offering that drives efficiency for suppliers' existing operations.
On the consumer side TreeDots delivers a number of orders to one address, and neighbours pick up their goods from this household in a group buying model, reducing logistics costs and emissions.
"Food loss is already a trillion-dollar problem, but what got us really excited was the fact that suppliers started to use the system for all of their revenue, not just food loss products. If one of their trucks could make one delivery to a zone, TreeDots could make five deliveries on that same trip working across suppliers. The increased network density allows for decreased logistics costs and lower emissions," said Roderick Purwana, managing partner at East Ventures.
In the Philippines, agriculture e-commerce platform Mayani has partnered with delivery app Pick.A.Roo to expand its network.
According to a report from the Business Mirror, Pick.A.Roo will provide last-mile support to the farm-to-table platform that directly sources fresh produce and agricultural products from over 60,000 smallholder farmers and distributes to over 11,000 retail customers and more than 230 commercial stores.
"We are very bullish in our outlook for on-demand fresh finds, especially organic ones. This strategic alliance ups our game even more as we take on that growing need of the market for locally-grown food amidst a fast-lifestyle," said Josef Amarra, Mayani's co-founder and chief operating officer.